---
Task mailing application - beta testers wanted for open beta test

We just started an open beta test for our task mailing application TaskMailer for BlackBerry® Wireless Handheld.
The TaskMailer is a simple program that allows you to create and send tasks via email in just a few clicks. It supports the common task exchange formats iCal and vCal. We made this beta test open for all interested BlackBerry® users because we would like to get as much feedback as possible. Please follow the link below to get more information.
TaskMailer Beta Test:
The Beta Program | TaskMailer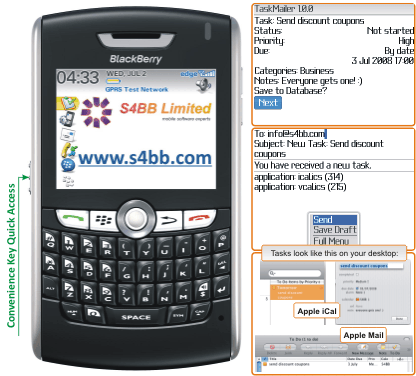 | | |
| --- | --- |
| akosnitzky | 07-02-2008 12:26 PM |
---
Thank you for offering the app. Pardon me if I am missing it but it seems that we can e-mail tasks but cannot create tasks from e-mail unless someone else is using this program.

It installed very easily.:smile::smile:
| | |
| --- | --- |
| funkym | 07-02-2008 09:00 PM |
---
It seems just to be for mailing out tasks by now. Let's drop them an email :)
| | |
| --- | --- |
| funkym | 07-11-2008 02:50 AM |
---
I heard there's gonna come new beta version in the next days. is that true?
---
Feedback

We are indeed preparing a new beta version. We have had a lot of feedback from users already. However, if you have anything to add, please drop us an
email
.
We are open for any ideas on this topic. If there is enough time we might be able to build it into the next version already :)
All times are GMT -5. The time now is

07:20 PM

.
Powered by vBulletin® Version 3.6.12
Copyright ©2000 - 2018, Jelsoft Enterprises Ltd.