S4BB Limited has just released a new beta version of TaskReports. New features and changes in version 1.4.0 are:
GTD® reports (next actions, contexts, projects, and project progress).
Help screen for general usage.
HTML reports have been polished.
Improved start up time and program feedback.
Improved performance on report generation (saves battery power).
Bug fixes: no more out of memory errors when you have thousands of tasks in your db.
Key Features of TaskReports
Analyzing of your whole task database.
Simplified reports give you a detailed overview.
Compatible with desktop task applications including but not limited to Microsoft® Outlook®, iCal®, Entourage®, and more if you are synchronizing your task database. All tasks which can be synchronized with the BlackBerry® Desktop Manager, MissingSync or PocketMac are supported.
Compatible with other task applications like BlackBerry® Tasksxxx8482;, NextAction!, TaskMasterxxx8482;, TaskMailerxxx8482;, QuickTaskxxx8482;.
On-Demand report sending.
Currently supported report types:

Basic textual report.
Basic graphical report.
Upcoming tasks report (today, this week, this month).
GTD® reports (next actions, contexts, projects, and project progress).

Background email schedules (one time, daily or weekly basis).
Colorful EMail (HTML) reports.
TaskReportsxxx8482; is now compatible with all current BlackBerry® models.
All current beta testers have already received an update email. If you want to join our free and open beta test please register.
Open BETA Test:
TaskReports for BlackBerry® Wireless Handheld
.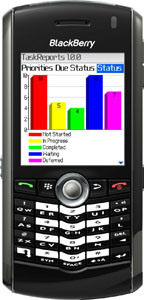 P.S.: Any feedback is highly appreciated!