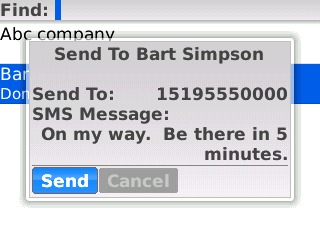 Are you always typing the same sms message and wish you can just select a pre-defined message and send it? Now you can with SendIt. A simple and intuitive way of sending sms from the Address Book, Call Log and Messages application.
Sending a sms is way easier with SendIt. Highlight the contact in the Addressbook and then select the SendIt SMS from the menu and a popup screen will be displayed will all your pre-defined messages to select from.
You can use SendIt in the AddressBook, Messages and CallLog applications. You can even select a email address from the Contacts or Messages application and send a sms.
There is problem on the Tour with the CallLog application. You can not send from this app. This is a bug in the Tour OS.
Note: Permissions must be set to all ALLOW in the Options->Advanced Options->Applications app for SendIt.
Storm Users: You need to disable compatibility mode in the Options app for SendIt
Download trial or purchase for only $1.99 here
http://www.mobihand.com/product.asp?id=35799