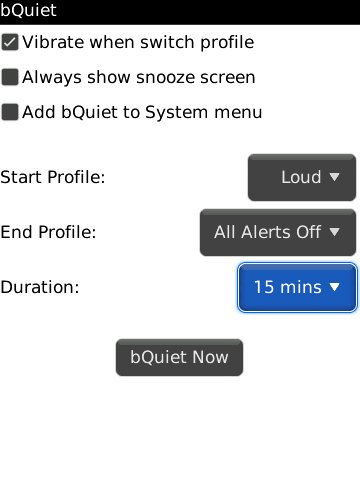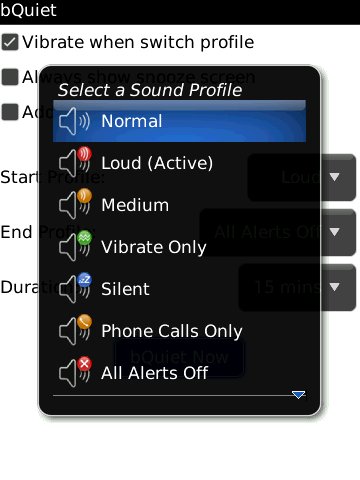 Note: You must the the Interaction permission to ALLOW in the Options->Advanced->Application app for bQuiet.
Automatically set a profile, wait for a specific time and then set the profile back to original profile.
Ever had a situation where you are in a important meeting and you forgot to turn off the phone Ringer and your favorite funky ringtone started to play?
Well now you don't have to worry about that anymore. With bQuiet you can set the system Sound Profile to Vibrate or Quiet for one hour, two hours and then bQuiet will automatically switch back to your assigned profile.
You can set up a profile from 15mins to 10 hours. You can cancel the profile anytime by running bQuiet.
bQuiet can also use any custom profiles that you have assigned. Just edit the custom profiles in bQuiet to match the system profile names.
You can also enable Snooze if you want to extend the profile.
bQuiet supports keyboard locking for BlackBerry with OS 4.7 and higher.
For BlackBerry OS 4.2 to OS 4.6 if the keyboard is locked you can tell bQuiet to keep vibrating and warning to unlock the keyboard.
bQuiet will not work if the BlackBerry is in the Holster.
Features:
* *automatically switch profiles
* *set profile time from 15mins to 10 hours
* *vibrate when profile is done
* *repeatedly vibrate if keyboard is locked for OS 4.2 to 4.6
* *automatically unlock keyboard for OS4.7 and higher
* *snooze when you need to extend the profile
* *access bQuiet from System menus eg: CallLog, Messages, Contacts app
* *supports your custom profiles
Storm, Tour and OS 4.7 higher OTA
www.toysoft.ca/storm/bQuiet.jad
All others
www.toysoft.ca/ota/bQuiet.jad
Purchase here for $2.99
bQuiet - Automate sound profile switching - Personal Productivity Blackberry Software