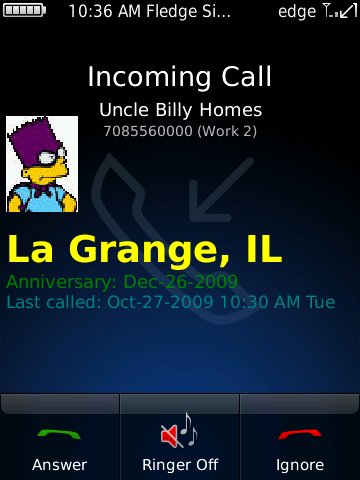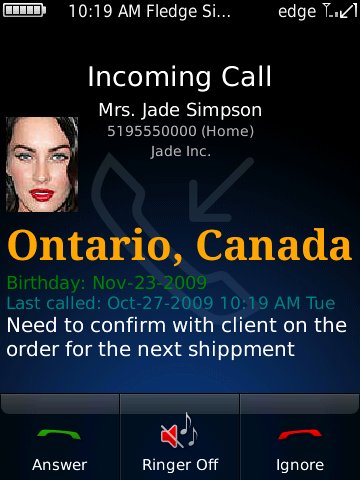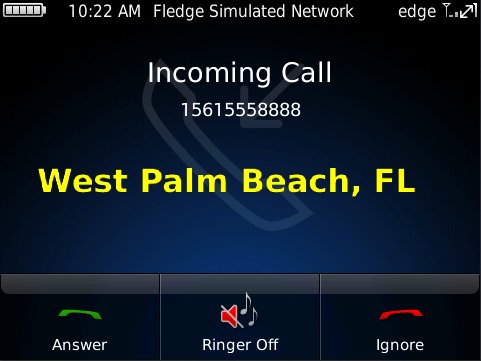 CallerInfo requires OS5.0.323 and higher
Note: Program permissions must be set to all ALLOW in the Options->Advanced Options->Applications application for CallerInfo.
CallerInfo is the first BlackBerry OS 5 program that displays custom information about the caller on the phone call screen. You can set to show the city where the caller is calling from.
Default North America area code database is included with CallerInfo. You can edit the Area Code database and add your own city.
CallerInfo can also display basic information from the Contacts database such as the caller's birthday, anniversary date, note and last call datetime.
You can goto the Phone Screen Preferences to configure which user field you want to show on the call screen, the font and color of the text.
Whenever you end the call you can ask CallerInfo to prompt you for a call note. The call note is then saved to the Contacts database. When the caller calls you the next time you can have the call note displayed on the Phone Screen as a reminder.
click here to download trial or purchase
CallerInfo - Show city name, birthday, anniversary and note on the PhoneScreen - Personal Productivity Blackberry Software