StopWatch for Blackberry
Review Date: 4/5/06
Version: 1.0
Website:
http://www.blackberrytoday.com/softw....html#download
Price as reviewed: Free
With the latest thread involving the requests of Stopwatches for the Blackberry, I decided to review this little application, available from Blackberry Today. The program is free and basic, but suits the needs that anyone needing a stopwatch application would want.
Loading the application was as simple as downloading and unzipping the file, then loading it with the application loader on Desktop Manager. The file didnt require any set up and you are immediately taken to the main function screen upon entering (no setup required).
To start the application just press enter and the clock starts ticking, The numbers are nice and big. As the application should, it runs even though you are not viewing it. Taking a phone call or retrieving messages, even browsing the internet will not stop it from counting. The catch is that you have to use the multi application method. Alt+escape and switch to another program. If you exit, you get this message: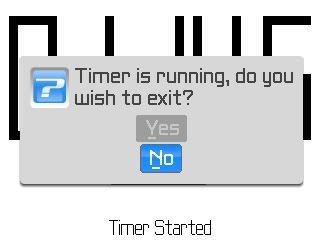 You can add markers that will let you know exactly what time a certain event happened. These markers are displayed in list view and do not disrupt the stopwatch.
You can also switch to a time option which will count down to zero. There is an option for notification, either none, vibrate only, tone only, or both vibrate and tone. The vibrate, seriously, lasts for a half of a second. Not strong enough to notice. The tone wasnt audible either. Basically, you have to keep an eye on the BB in order to know when it stops counting down.
This application is very basic, and hopefully in future versions they will add the options of allowing easy exiting to main screens and applications (rather than alt+escape) while the timer and stopwatch are running. A big improvement right now would just be a louder or stronger notification.
I give this phone two out of five Blackberry's