BlinkBerry for Blackberry
Date reviewed: April 6th, 2006
Version: 1.0.0
Website:
http://www.greentechmobile.com/blinkberry/
Price as reviewed: 9.99 USD
Free to try: Yes
Vendor: Micheal A. Blake ; GreenTech Programs
Installation: Application Loader via USB
Size: 23 Kb
================================================== =======
Have you ever wanted to know if you had enough signal to make a phone call without ever having to look at your phone? Do you want a versatile program that allows you to see what kind of coverage your in, easily and quickly? That is the idea behind this simple application! GreenTech Programs is the proud creator of BlinkBerry, an application that automatically changes the color of your LED indicator to reflect the amount of signal that your Blackberry is picking up (and you thought it only blinked red and green :wink:).
The application is very basic and provides just what it states (no room for user error here!). The makers even provide a user manual. First configuration setup, you have to turn off your main LED indicator so there is no conflicts.
From the main screen, you can access several different options. The first little "cool tool" is the flashlight feature. It keeps the LED on until you decide to toggle the option back off. Great if you need a little help in the dark. In addition to that option, you can have the LED stay on continuously when there is no coverage for your blackberry at the moment. Below that you have a Blink on option which can be toggled to off, keeping the LED off. You can set blink times, colors, and fade times. All part of the cool little features of this program.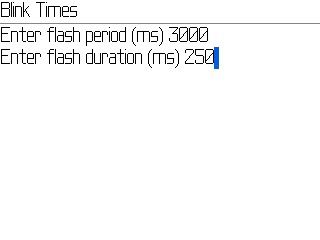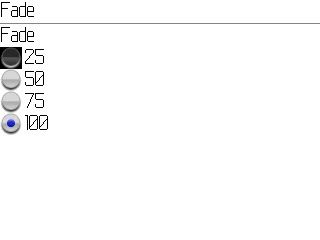 Overall, this application suits the basic needs. On the application website, the creator stated, "This is a work in progress, there are many features I would like to add, but due to the demand for the application I have released it with what I think is some really cool features."
The only draw back to this application is that even though the colors are nice, trying to remember what 6 different colors mean can be a little difficult. I am sure with a little practice, the user of this application should have no issue recognizing what signal coverage they have. In addition, I am unsure as to the "usefulness" of this program. Having 2-5 bars is really enough to make a phone call or receive a SMS or email. To me, red or green is good enough for me. The value of the program is not quite worth the 9.99 USD in my opinion, but if this was, let's say 5.99, I just might buy it. I can see the benefit, I just don't know if I need it for $10.
I give this application 2 out of 5 blackberry's :