REVIEW:
Freedom Universal Keyboard*
*New! 09/02/2008: Updated to Freedom Universal Keyboard 2 with NEW Easy Setup
and removable easle!
from
Freedom Input Ltd - Home
Price: Range $89.99-$105.99
This Review is of the Freedom Universal Keyboard from Freedom Input.
The keyboard came nicely packaged as shown below from Freedom Input:
__________________________________________________ ________
Below is what is included in the package. It includes the folding keyboard, removeable easle (stand,) a pretty nice leather case, batteries, and the quick start guide.
__________________________________________________ _______________________
Folded, the keyboard measures 5 3/4" x 3 7/8" x 3/4" thick. It's quite compact and fits easily in any briefcase or suitcase.
__________________________________________________ _________________________
When opened, the keyboard measures 11 1/4" x 3 7/8". On the upper left side is a slide out, and new removeable easle/stand for the BB. I found that it's made more for the full sized Blackberries but holds my Pearl just fine as well.
Installing the drivers, normally, is quite simple. I went to Freedom Input's website, downloaded the latest driver and installed it on my BB and set the permissions for the keyboard application's required Keystroke Injection. With the Freedom Universal Keyboard 2 there is simple OTA downloading of the drivers now and no more "unique codes" or "unlock codes" required! This is a big change and has really made this keyboard a pleasure to use. Note: With no BES involved the above instructions will have you up and running within minutes. If you are on a BES (or your BB has ever been on a BES) that's when problems can arise due to the keyboard requiring "Keystroke Injection".
If you're on a BES I suggest contacting your BES Admin prior to purchasing a keyboard to make sure that they can enable the "event injector api" for use with the keyboard. Even liberal IT policies by default disallow the event injector api. You can check this by looking in your Application Permissions under Interactions. Look for "keystroke injection." If you can set "keystroke injection" to "allow" then you will have no problems. If its locked to "deny" you won't be able to install the keyboard on your own. However, all your Admin needs to do is setup an application configuration policy for the keyboard driver and enable "event injector api" in the setup and they can push the "approved" driver out to you or you can download and install as described above. Just make sure that the driver version you install matches the one your Admin setup on the BES.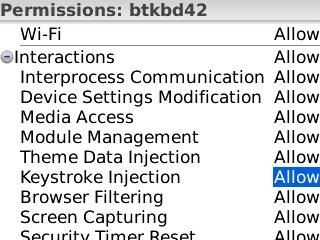 Again, I recommend checking with your BES Admin first to make sure they are willing to do this. Most are willing but you will need to ask. Chances are they've already set this configuration up for someone else and they will only need to add you to the configuration. This was the case for me. If your IT department is uneasy about doing this the techs at Freedom Input are VERY helpful with this setup and are willing to assist you and your Admin, if necessary. I spoke with several of the Freedom techs during my setup and the technical support from them is excellent. Once the policy was setup properly on the BES my keyboard driver worked beautifully.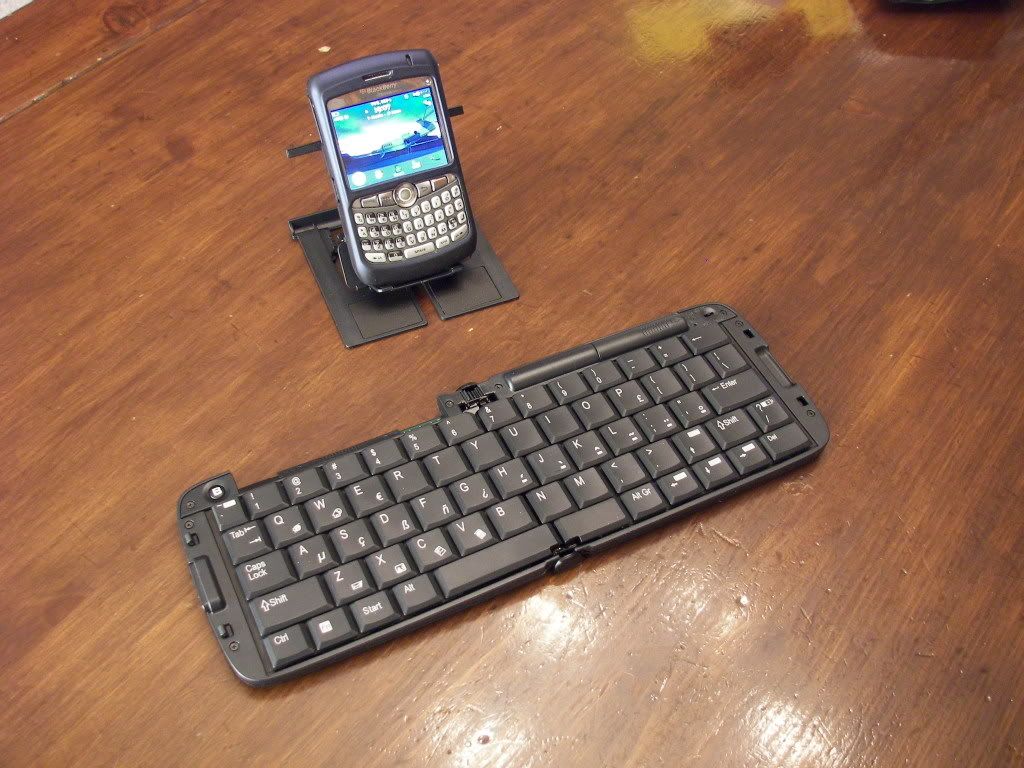 __________________________________________________ _______________
The keyboard has a locking mechanism that slides to the right to lock the keyboard in the open position. This makes it suitable for lap use. The lock rod doesn't feel like it would support too much pressure, however, and even in the locked postion the keyboard does flex a little while in your lap.
After installation of the app and pairing of the keyboard is complete, turn on the keyboard to "SPP." Then go to the Keyboard app on the BB and check the box for "Activate Keyboard."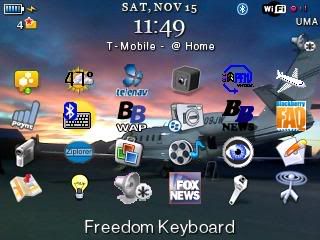 The keyboard is universal so it supports multilanguages and has many of the other characters required. There are marked shortcut keys for email, memo pad, tasks and calendar. Additionally, the top row of number keys can be customized for shortcuts for virtually any application loaded on the BB. Simply program the keys in the keyboard driver and then use Fn + 0-9 for up to 10 programmable shortcuts. This is a nice feature but I found myself not being able to remember which key I programmed for what. Decals or something similar would be nice for this, at least for the most common BB apps.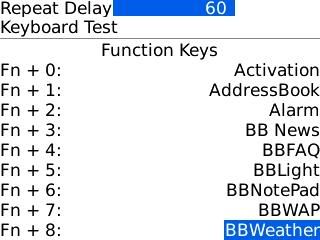 __________________________________________________ ___________________________
On the upper right side is the battery compartment. It uses 2 AAA batteries (supplied). Just to the right of that is the SPP/Off/HID switch. Unlike other similar keyboards this one is Dual Standard HID / SPP. it's a three position switch. To the left is SPP mode and to the right is HID mode and in the middle is off. The Blackberry uses only SPP. If you only have a Blackberry then you will only use the SPP side of this switch and the Dual Standard isn't going to benefit you. However, if you are someone who has multiple types of devices, then this keyboard will work with your other smartphones and PDA's. One keyboard will do it all-quite a nice touch. This means that if you give up the BB for something else (why on Earth would anyone do that?) then the keyboard will work with your next device.
One thing to note in the photo below is the position of the right-hand "shift" key and the "?" key. They are opposite what I'm used to. This does catch me when I'm typing at a pretty good rate. You have to search around for it if you are used to it being on the inside of the "shift" key. Also, I found that the split in the space bar (necessary for folding the keyboard) is exactly where I rest my thumb when typing. I find myself having to shift where I rest my thumb. If you push both space bars at the same time then you get two spaces. Not a major problem but does take a little getting used to.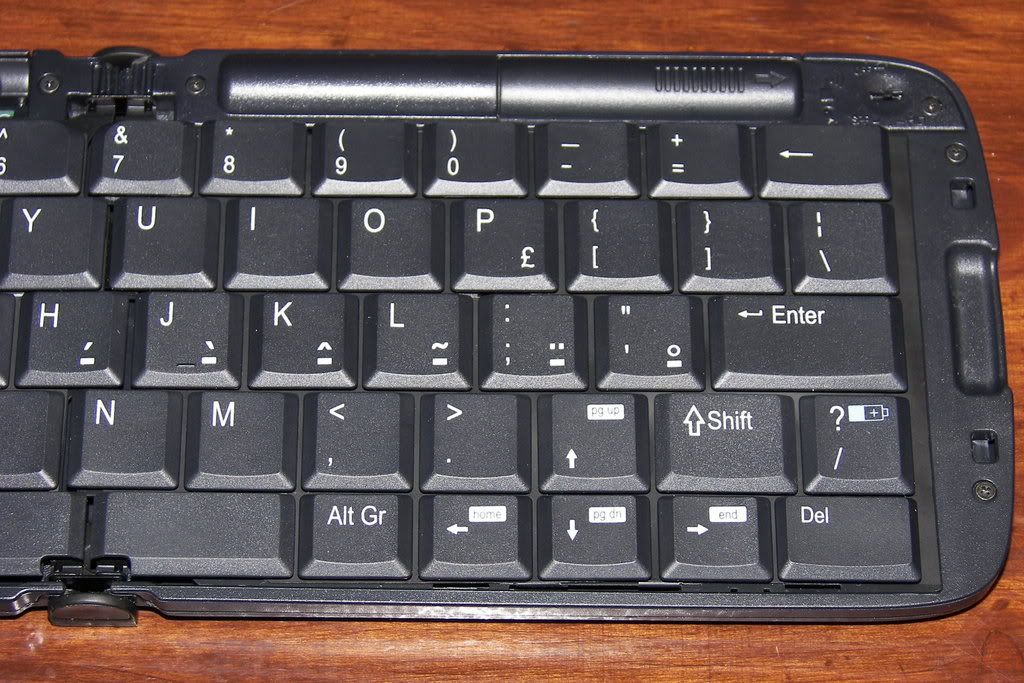 __________________________________________________ ___________________
Typing on the keyboard is quite easy and really is convenient for typing longer emails, especially on SureType devices. Even if you use a full Qwerty keyboard this external keyboard really speeds up the typing. Once the initial setup (described above) is complete, subsequent connections to the keyboard take only a few moments and are quite simple.
I have been using the Freedom keyboard for over a year now and the new updated Freedom Universal Keyboard 2 model for a couple of months and, must say, I'm hooked. I don't use it all the time, of course, but I try to keep it nearby and do use it quite often. It works well for any application from Google Talk, FaceBook, BeeJiveIM (JiveTalk) and BlackBerry Messenger to composing emails and adding contacts to your address book.
When I am finished I simply go to the keyboard app, uncheck the "activate Keyboard" box, turn the keyboard off, fold up the keyboard, slip it into the nice leather case and throw it back inmy briefcase, suitcase, or computer bag. Note: In the instructions it says to connect the keyboard simply check the "Activate Keyboard" box and then the "Reconnect" box. Then you can just turn on/off the switch on the keyboard and it will connect and reconnect on it's own. This works good if you use the keyboard often. I've found that if I don't use the keyboard often then the application will still run and look for the keyboard and run the battery down on my BlackBerry faster. Personally, when I'm done using it I uncheck the "Activate Keyboard" box in the application and turn off the switch on the keyboard.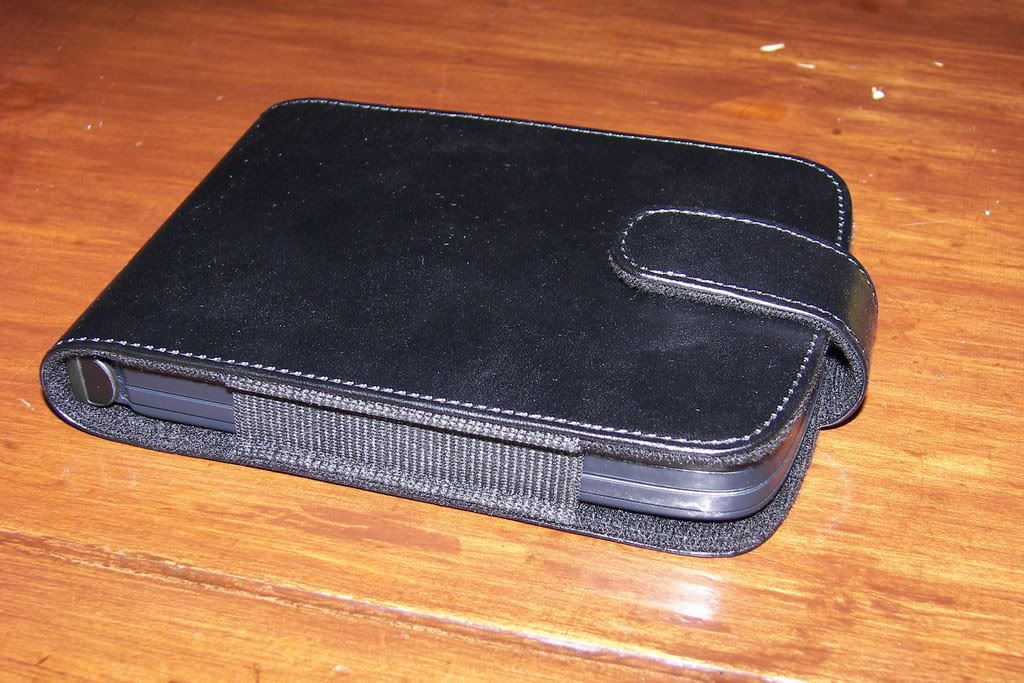 Overall, I am quite impressed with the keyboard. The dual standard for use with BB as well as other smartphones and PDA's makes it a great buy for those with other types of devices. It's small and portable which makes it great for traveling. It allows a longer leash on that laptop many of us carry around when traveling. I can sit down and type that long email without dragging out the laptop.

Note: I've seen this keyboard advertised that if used with BlackBerry devices with OS 4.2 and higher that BES changes are NOT required. This is not always true. If your BES has sent a policy specifically disallowing the event injector then you will still need BES changes. I have the Curve, with 4.5, and still needed the BES admin to apply the configuration to the BES for my account. Contact Freedom Input or your BES Admin for more information on installing in BES environments.
Pros:
1. Fast, convenient typing of text.
2. Small, lightweight and very portable.
3. Dual standard for use with many types of devices
4. Excellent support
Cons:
1. space bar split somewhat inconvenient (this is the same as with other keyboards as well.)
2. Right hand "shift" key and "?" are swapped (compared with US keyboards.)
3. Can be a little time consuming to setup with a BES. It can even be impossible if BB 'used' to be on a BES but is no longer on the BES. If a policy allowing event injection can't be sent to the device then the Freedom keyboard (or any brand keyboard) will not work. If your device has an old IT policy that is no longer used you can remove the IT policy by following the instructions
here.
If you're using OS 4.3 or higher, use Method #1 in that link. If you have OS 4.2 or older use Method 2. However, the blank policy listed in the "Remove IT Policy" link still doesn't allow event injection and if there is no OS 4.5 update available for your device, it's possible that this keyboard will never work.