I received my Freedom Mini GPS receiver from Freedom Input today. First, let me say that this is not a *technical* review. I am not a GPS expert. This is more of a layman's "how it works for me" review. That being said, overall, I'm quite imprressed. For it's size it boasts the following Specs:
Bluetooth Specs
Bluetooth CSR BC04 Bluetooth V2.0, Class II
10 Meters Range
SPP Serial Port Profile
GPS Specs
Chipset: SiRFstar III
20 Channels "All-In-View"-Tracking
Protocol: NMEA 0183/GGA, GSA, GSV,RMC, VTG, GLL
Baud: 57,600
Freq: LQ, 1,575.42 Mhz
Tracking Sensitivity: -159dBM
Position devidation: 10 meters 90% 2D RMS 1-5 Meters
Velocity: 0.1 M/sec
Cold/Warm/Hot Start 42/35/1 sec
Rechargeable 420mAh
Lithiup Polymer Akku
Working Temp: -20C - +60C
Internal Ceramic Patch antenna
Size in mm: 39L x 33B x 19H
Weight: 28g
Battery life: 10 hours working time.
Below is the retail packaging:
-------------------------------------------------------
The Freedom Mini GPS came with the following items:
GPS Reciever:
Key ring
USB cable
Car charger
Instructions
I was surprised to see that no AC charger was included with this package. The unit can be charged in any USB port with the mini USB cable (same as the BB.)
-------------------------------------------------
IMO, the main feature of this GPS compared to others such as the BT-359 is it's size. It's made of rubberized plastic and hangs on a key ring. It's 2 inches tall, 1 1/4 inches wide and 5/8 inches thick at it's thickest and weighs in at only 1.06oz. It's somewhat teardrop shaped in thickness. It includes an on/off switch on the side and one multicolored LED on the front. At the top is a hole for a keyring. At the bottom is the mini USB charging port with a rubber plug for covering when not in use.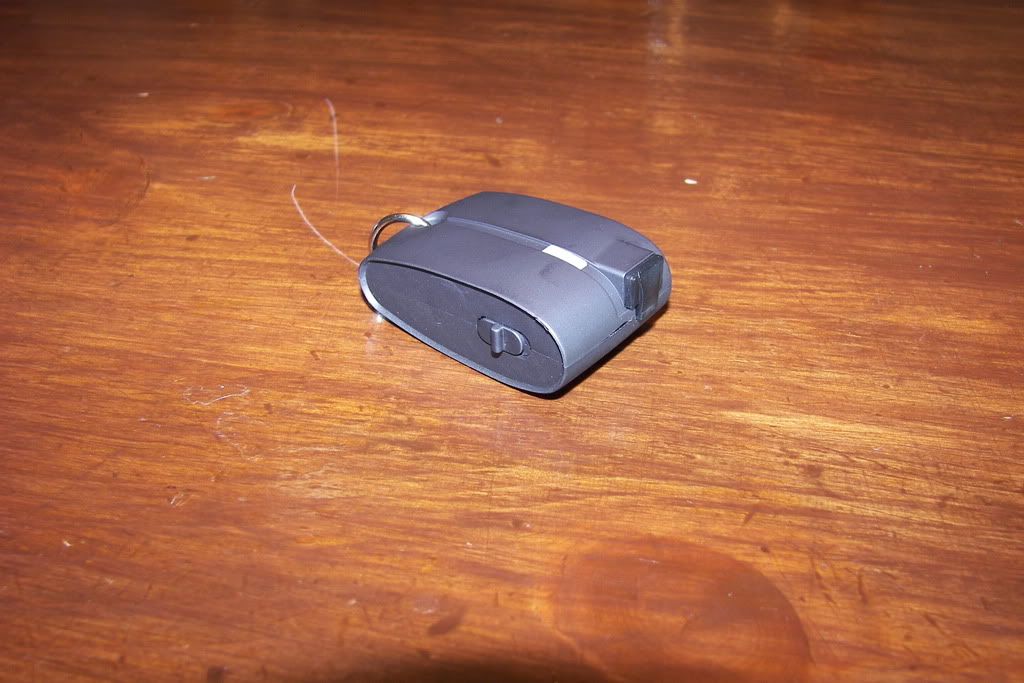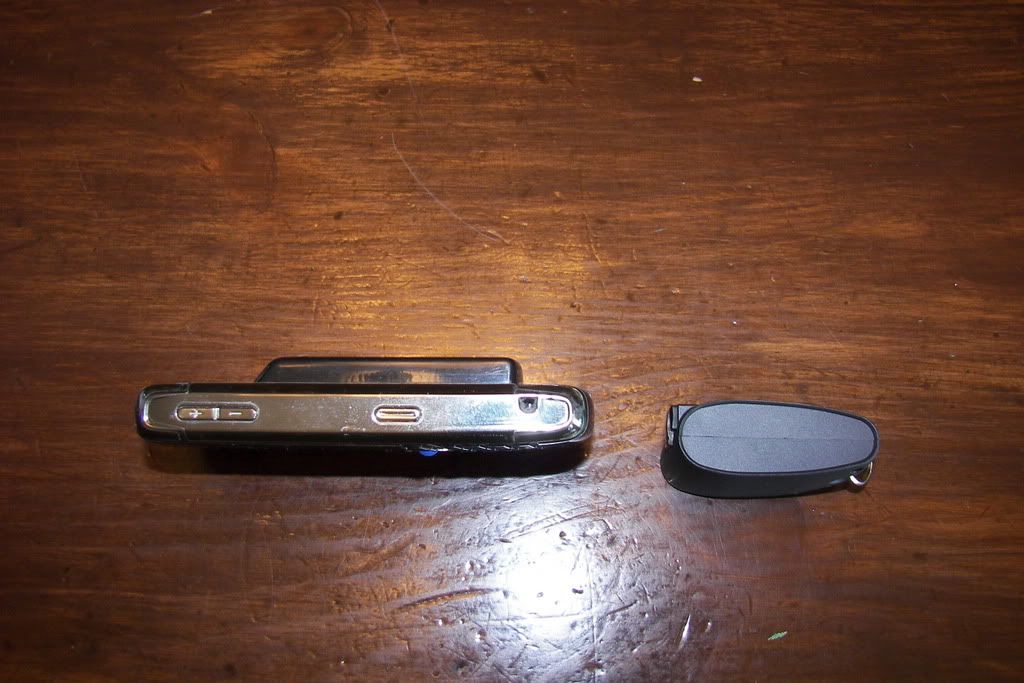 ----------------------------------------------------
I've had a GlobalSat BT-359 for quite some time and consider it to be a pretty small GPS unit. However, when when compared to the BT-359, the Freedom GPS, while slightly thicker, is quite a bit smaller than the BT-359.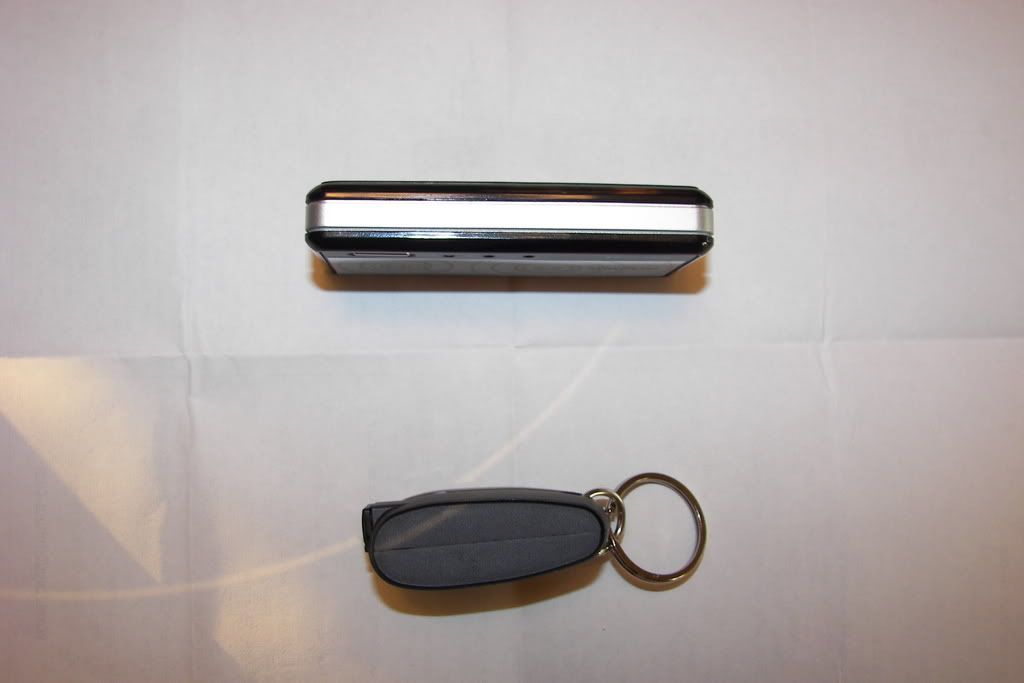 So far I have tried this with Google Maps, BB Maps, and TeleNav and they all work well. One thing to mention regarding TeleNav. I first paired the Freedom Mini with TeleNav v5.1.0.29 on my Pearl. There is a known issue with Bluetooth Pucks (other than the BT-359) that prevent them from working with v5.1.0.29. I was able to pair the Freedom and use it with Telenav v 5.1.0.29 but only after changing the GPS preferences from Bluetooth to Internal, saving, then changing back to bluetooth again. Then the Freedom GPS worked until TeleNav was closed and reopened again. Once reopened I needed to change to internal and back again. Again, this is a known issue with TeleNav 5.1.0.29.
However, after upgrading TeleNav to 5.1.0.54 all issues with the Freedom Mini were gone and it paired and worked normally with TeleNav.
This GPS tracks and keeps up quite nicely using Google, BBmaps and TeleNav.
The LED is my only complaint with this unit. It has a red, blue and orange led under one lens. The instructions included state the following:
LED Status:
1. Bluetooth LED (Blue)
The blue LED blinks 1 time/sec = The device is switched on
The blue LED blinks 2 times/sec = Bluetooth connecting
The blue LED stays illuminated = Bluetooth connection established.
2. GPS LED (Orange)
The orange LED shines permanently = Satellite signal searching.
The orange LED blinks 1 time/sec = Satellite signal received.
3. Battery LED (Red)
The red LED shines permanently = Battery is charing
The red LED goes out = Battery fully charged
However, When paired, connected and receiving a Satellite my LED blinkes blue, purple, orange, blue and repeats. It appears that blue LED comes on indicating connection established however, the blue LED doesn't stay illuminated. It turns off momentarily. And additionally, the orange LED comes on at the same time as the blue (briefly) turning the LED a purple color (purple is not any color that the instructions list). If I understand the instructions correctly I should have a steady blue light with an orange flash every second.
However, regardless of what the LED's do the GPS functions correctly. I still have the issue where occasionally I have to restart the GPS unit in order to get it to work in Google Maps. Sometimes it will show connected and not disconnect and sometimes it just won't connect at all. I've had this issue with the BT-359 in Google, BBMaps and TeleNav so I don't believe it's anything specific to the Freedom Mini GPS.
Overall, I give this GPS unit 4.5 out of 5 stars. The only reason it didn't get 5 from me is that the LED flashing doesn't quite match the instructions received. This is a great unit that is small and compact and easier to carry around than my BT-359. I will probably shelve my BT-359 in lieu of the Freedom due to the convenience of its small size. (y)
Freedom Mini GPS
Freedom Input Ltd - Home