Hey folks, I'm sure you all have heard about the scheduled RIM outage for the
BIS upgrade in APAC over the weekend
and have read about the article
hdawg
had posted about the
features of BIS v2.5
... so please allow me to give you more updates about BIS v2.5, HTML Email and Hotmail integration (for now)...
To start with, let me give you the low down on how you will get HTML email on your HH. Once your carriers have upgraded to the latest BIS, you would need to remove and re-add your integrated email addys on your carrier's website for you to be able to get the "Enable HTML Email" field in Messages > Options > Email Settings. I've done countless battery-pulls soon after the upgrade window was up but never got it to work. I only figured it out when I integrated my Hotmail (
created Feb 2008 and previously un-integrable
[if there's a word :?]) and it had that option. The only pain I had to go through was when I had to profusely re-setup my filters for my work email account (if I miss the thread for the workaround to this, hit me). So here's how it looks: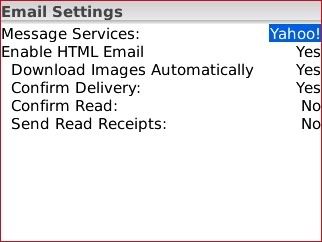 Since I haven't figured out the exact HTML email size that my HH could take (with the BIS update) before it'd show "More All," I sent a 19.29 KB from Entourage with a simple colored test message with Comic Sans MS Bold as font, sized 11 and here's how it looked like when I received it on my HH:
Now I'm not sure if it should work that way as it only kept the colors AND it came out with the same font I have setup on my BB. Here's its "converted" size equivalent via Options > Status > BB Key > Database Sizes:
The only other big news there is, at least for me, is that Hotmail now works seamlessly and it's delivered real-time as was documented. That news would surely send some "ouch!" to those who paid for the Plus service. Sorry. BTW, when you integrate Hotmail, you will get this as a reminder:
So good luck to all you NA and EU users. You all will surely get BIS v2.5 real soon. And let's all hope to get the official copies of OS 4.5. Enjoy!
UPDATE regarding Hotmail not being pushed sometimes:
RIM KB Article KB15747
Quote:
---
Email message delivery is delayed to an integrated Windows Live Hotmail account on the BlackBerry smartphone when using Windows Live Messenger on the computer

---------------------------------------
Doc ID : KB15747
Last Modified : 2008-06-30
Document Type : Support

Environment
BlackBerry® Internet Service 2.5
Windows Live™ Messenger for BlackBerry® smartphones
Windows® XP
Windows Live™ Hotmail®
Windows Live™ Messenger
SDR188171

---------------------------------------

Problem
Email messages are not received in real-time to the BlackBerry smartphone when a BlackBerry Internet Service subscriber has the following environment:

The computer is running Windows XP
A Windows Live Hotmail account is integrated with the BlackBerry Internet Service account
Windows Live Messenger (previously known as Microsoft® MSN® Messenger) on the computer is being used
Note: This issue does not occur when an earlier version of Windows Live Messenger is used in this environment.

---------------------------------------

Cause
Windows Live Messenger and BlackBerry Internet Service both use the Microsoft Notification Protocol (MSNP) to receive notifications for new email messages.

MSNP is designed to notify only one application at any given time. If the Windows Live Messenger application is active, a notification of the new email message appears in the Windows Live Messenger application on the computer. If Windows Live Messenger is inactive, the MSNP sends a notification to the BlackBerry Internet Service and the email message is sent to the BlackBerry smartphone in real time.

---------------------------------------

Resolution
This is by design.

Install Windows Live Messenger for BlackBerry smartphones.

Note: Windows Live Messenger for BlackBerry smartphones does not receive new email notifications and will not compete with BlackBerry Internet Service for the notifications from the Windows Live Hotmail service.

---------------------------------------

Additional Information
The BlackBerry Internet Service will begin receiving the new email notifications when Windows Live Messenger on the computer goes into an inactive status.
---