Today is my first day with the Plazmic theme builder and it's great, but I'm having some problems I need help with and can't find answers with searches.
I couldn't figure out how to resize any of the icons, so I found a post on crackberry that said I had to use the composer and build individual icons, have them scaled by 100% (under the inspector), save it to an SVG and import them into the theme builder. This works OK, except the imported buttons can't be moved or have functions mapped in the builder. They stay exactly where they are, which kind of sucks. I have the buttons mapped in the composer to "Use Device Application Order" which I believe is correct.
Anyway, I did that and made a decent looking L theme that only had one problem - several of my apps that weren't blackberry apps would not light up at all when selected. Some of them would, and ALL apps that come with the BlackBerry would. JiveTalk wouldn't, Facebook would, Opera wouldn't, for some examples.
I tried to make another one from scratch and it imo looks even better but now I have 2 problems. 1) the problem mentioned above, and 2) my icons are laid out like this
1
2
3
4
5 6 7 8 9
When I put an icon in my first slot on my menu screen, it shows up in slots 1, 4 and 9. I have no idea how this happened and no idea how to fix it. Here is the pic of what I have so far.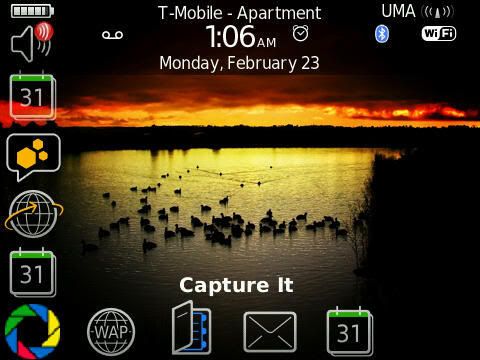 I'd love to figure out how to resolve those 2 things so I could publish this theme. Help me out!