FREE TRIAL NOW AVAILABLE:
Limitations:
- All user-defined icons lead to first program in first slot
- FREE TRIAL watermark
SCROLL DOWN TO GET IT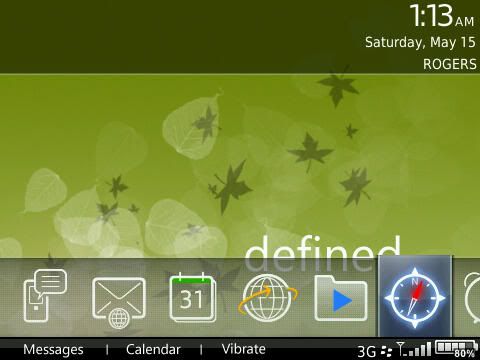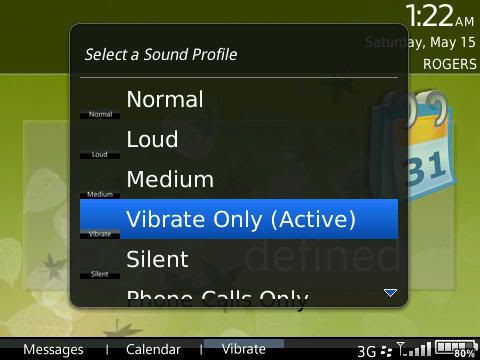 Description:
Defined Pro, a new look to the zen style theme that you're already used to on your favorite Blackberry. Except this time, 10 user defined icons are ready to go when you need them, and only when you need them. The hidden dock scrolls up to display your top 10 favorite applications of choice and scroll back down when you dont need them.
Calendar Display shows you your next 8 appointments and your newest unread messages, all without leaving the homescreen.
The smooth transitions keep the theme professional looking and doesn't take a toll on your battery life or memory.
NOTE:
CalendarDisplay is great if you use your calendar often and you want to be able to display it on the homescreen when needed.
nonCalendarDisplay is available for those who do not want this feature.
Transitions are only available on OS 4.7 and up devices
A Transition-Less version for each version is available for those who are interested.
Check your OS:
To check your OS, hit ALT+SHIFT+H from the homescreen and it is displayed beside "App Version:"
Features:
- CalendarDisplay to view and select upcoming appointments and new messages on your homescreen
- Hidden Scrollable Dock with 10 user defined icons
- Profiles displayed in words
- Selectable Manage Connections and Options from homescreen
- QuickLaunch and ShortcutMe compatible (spacebar on homescreen)
- SMS and MMS shortcut ('$' key)
- Battery Indicator with approximate percentage
- Sliding Transitions on OS 4.7 and up devices
Price
Only $2
Get it now:
Purchase from Mobihand:
Defined Pro (FREE TRIAL AVAILABLE) - Themes BlackBerry Apps
Trial for 8900:
OS 4.6:
http://www.shankeith.com/definedtria...nkeith_com.jad
OS 5.0:
http://www.shankeith.com/definedtria...Free_Trial.jad
Trial for 9000:
OS 4.6:
http://www.shankeith.com/definedtria...nkeith_com.jad
OS 5.0:
http://www.shankeith.com/definedtria...nkeith_com.jad
Trial for 9630/9650:
http://www.shankeith.com/definedtria...Free_Trial.jad
Trial for 9700:
http://www.shankeith.com/definedtria...Free_Trial.jad
Check out my other themes at
Shankeith Blackberry Themes for Bold, Tour, Curve and Storm