| | |
| --- | --- |
| bblevins | 06-07-2010 02:50 PM |
---
New Premium Theme from BB_Berry Themes - Quiet Storm

3 Attachment(s)
Theme name: Quiet Storm
Theme author: BB_Berry
Theme credits: RIM (Default Icons)
Supported Device Model(s) and OS: 9700 / 9630 / 8900 (OS 5.0)
Download Link(s):
Quiet Storm OTA
Theme Cost: Only $1.99!
For those of you that liked my previous theme "
BB_Berry Storm
", this is an evolution of that design. It has many of the same elements and feature but is more polished and refined (IMO). A great deal for only $1.99!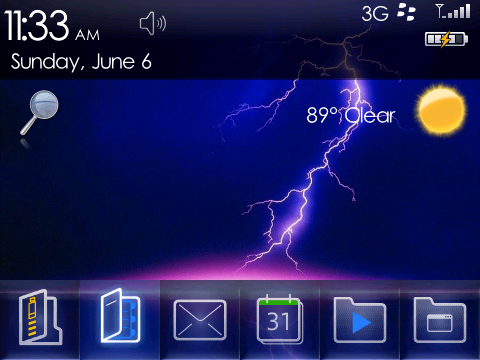 Features ...

Icons have the familiar "Storm-like" backdrop.
Keyboard Shortcuts

Quicklaunch (spacebar)
Profiles (z)
SMS / MMS ($)
Google Mobile Search (s)
MeterBerry (0)
Banner Hotspots


Clock
Calendar (Scroll right to jump down to the today area from here ... Follow the green arrow)
Profiles
Messages
Options
Manage Connections
Integrated Search Icon
(Item # 8 in application list)

Weather Icon
(text is xxx8220;always onxxx8221;)

The weather icon does not have a "normal" or "focused" backdrop but flashes (like lighting, get it :)) when you hover over it!
Screen shots and OTA link are below ! I look forward to hearing your feedback.
Quiet Storm OTA
| | |
| --- | --- |
| scottjb | 06-07-2010 08:39 PM |
---
Nice job. :-)
All times are GMT -5. The time now is

07:36 PM

.
Powered by vBulletin® Version 3.6.12
Copyright ©2000 - 2018, Jelsoft Enterprises Ltd.