For those curious about the backward compatibility for the "Atomic" Trackball I've posted pictures below of my experience installing one in my BB Pearl 8130.
I purchased the trackball at cnn.cn, currently $9.99, about $15 with shipping. The site is in Hong Kong but I've heard good things about the site on the forum and I had no problems myself. I ordered the trackball and received it 12 days later with standard shipping. (The site is currently offering 15% off all orders between January 24th and February 9th and will be closed from January 25th to February 1st for the Chinese New Year)
The post
"HOW TO: Clean the Trackball on your Pearl 8100"
was very helpful in my endeavor and I highly recommend checking it out before trying this yourself; especially if you have no prior experience, like I did! It's stickied at the top of this forum. It covers instructions on removing the trackball so I will not repeat them here. Just follow those steps but install the new trackball instead of re-installing the original.
According to the website I bought the trackball from, the "Atomic" Trackball is compatible with all trackball equipped BlackBerry's. The install was surprisingly fast and easy. I took more time taking pictures than installing the trackball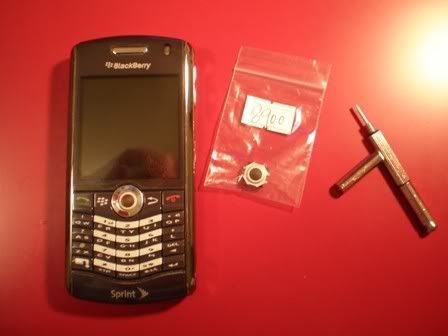 1.) Before installation: Phone with original trackball, new "Atomic" black trackball, and small screwdriver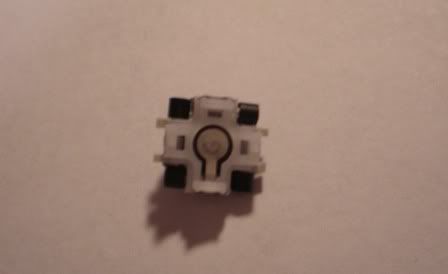 2.) Back of the new Atomic trackball with "bulb" shown orientated as it will be when inserted (back side)
3.) Atomic trackball next to the original trackball
4.) Phone with chrome cover ring removed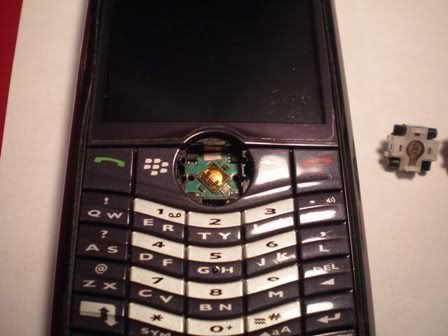 5.) Phone with original trackball removed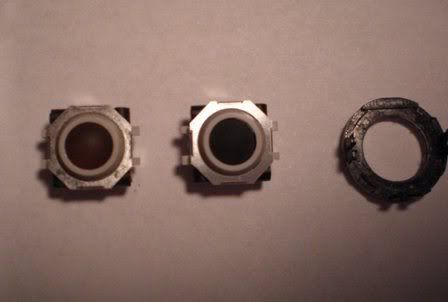 6.) Original trackball, Atomic trackball, and ring cover with the 3 tabs down orientated as it will be when inserted (back side)
7.) Same shot as before, this time, showing the back side of the trackballs
8.) New Atomic trackball installed
9.) Atomic trackball installed, with chrome cover ring, compared to the original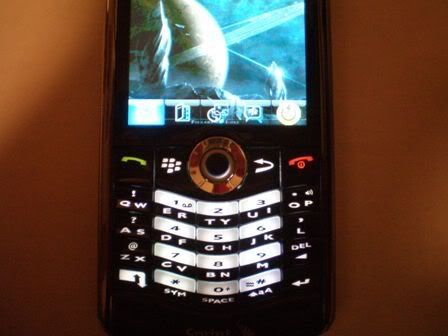 10.) Atomic trackball with LED lit up (the light does not show through atomic trackball)
First impressions: The "Atomic" trackball feels softer than the original and seems more precise when rolling around. The click when pressing down on the trackball is also softer. The trackball is black and does not allow the LED light to pass through(a plus for me since my phone seems to light up our entire bedroom and annoy the wifey). The ball appears smaller than the original, though, almost seems a little loose within the housing of the trackball.
Conclusion, the price was reasonable, the shipping wasn't fast but not incredibly slow either, the installation was easy, and, the results are a plus so far!
Feel free to comment and leave your own impressions about the new "Atomic" black trackball below!