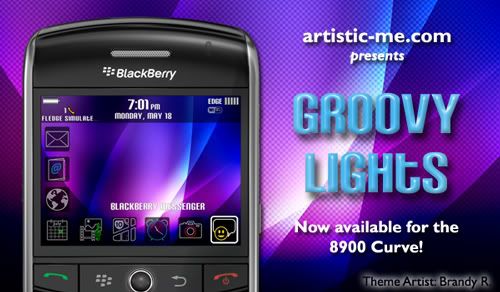 Theme name:
Groovy Lights
Theme author/credits:
Brandy R./artistic-me.com
Supported Device Model(s) and OS:
8900/OS 4.6.1
Purchase Link(s):
HERE
Theme Cost:
$6.99 each
Description:
Groovy Lights is a funky, futuristic and 'wallpaper friendly' theme available in the Bottom Zen, Blank Homescreen, "L" and Plus styles for 8900 (Curve) series BlackBerry devices. Full theme descriptions can be found
here
and
here
.
Theme Features:
Custom Icons (Homescreen icons are animated.)
Custom Meters (Battery/Signal/Volume)
Custom Dialog Boxes/Buttons and Menus
Custom Animated Hourglass
NOTE:
Home screen icons and message list fonts are user customizable.
In-device changes to the wallpaper/background image will be reflected in the Home Screen, Application Icons Screen and Lock Screen.
Groovy Lights is also available for 81xx, 82xx, 83xx, 88xx and 9000 BlackBerry devices.