TaskMailerxxx8482; 1.5.0 for BlackBerry®
TaskMailerxxx8482; is a small program which allows you to create and email a task (todo) in the fastest way you can imagine. TaskMailerxxx8482; passed an extensive beta testing program for months (click here for more details) which finally lead to a highly reliable final version.
Key Features:
Task email attachment formats - iCal and vCal.
Compatible - with desktop task applications including but not limited to Apple iCal®, Entourage®, and more.
Task preferences - can be entered: name, priority, status, due date, category / categories, notes.
Fast access - by assigning one of the BlackBerry's softkey to TaskMailer the program is accessible with just one click. More here.
Hotkeys - like ENTER provide very quick ways to send a task.
Font size is adjustable - wraps everything for performance!
Category filter - wrap up the screen for higher productivity.
Optional - save the task in your BlackBerry's internal task database.
Your Benefits:
Easily - create and email a task with one program.
Anyone - Email a task anyone with just 2 clicks!
Delegate - tasks to people with desktop management systems (which support iCal or vCal).
Delegate - tasks to people with normal email clients (task content is mentioned in email).
Only $9.99
:
TaskMailer for BlackBerry at MobileSoftMarket
Product site:
TaskMailer for BlackBerry Product Site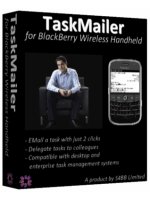 On-Device Ringtone Generator Beta 4 for BlackBerry®
This small app can create a new ringtone directly on your BlackBerry. S4BB Limited has just released a new beta version of On-Device Ringtone Generator.
New features
UI improvements.
Download ringtones added.
Minor bug fixes.
Key features
Easily create a ringtone on your BlackBerry® Wireless Handheld.
Save ringtone to: internal memory or SD card.
Save memory by using the highly compressed AMR audio file format.
Git your ringtone the name you want to.
Very easy integration! Just select the ringtone in your profile setting.
Playback already recorded ringtones.
Hotketys make your live easier.
On-Device Ringtone Generator is compatible with all current BlackBerry® models.
Open Beta Test:
On-Device Ringtone Generator Beta Program