NextAction! 3.0 has been released with someday/maybe support!
NextAction!xxx8482; 3.0 for BlackBerry® - Implementing GTD® (Getting Things Done®) with your BlackBerry® Wireless Handheld.
Key Features
GTD® - stream lined implementation of David Allenxxx8217;s Getting Things Done.
Speed - one-click context or project switch.
Compatible - synchronizes with desktop task applications including but not limited to Apple iCal®, Entourage®, Outlook®, Exchange®, Novell Grouwise®, Lotus Notes® and more.
Integration - 100% compatible with internal Blackberry Tasks application.
Visibility - hide completed next actions.
Sort - contexts beginning with xxx8220;@xxx8221; appear on top of the list.
Categorize - your next actions by contexts and projects.
Languages - English, German and Chinese available.
New in NextAction! 3.0
Someday / Maybe - support for someday/maybe next actions.
List indicator - project or context is shown in task list.
Integration - with BlackBerry® Tasksxxx8482; and TaskReportsxxx8482;.
Cleaning - completed tasks can be deleted.
Worklow - improved program usability and user interface.
Customizable - project and someday/maybe prefix.
NextAction! supports all current and upcoming BlackBerry® models including the BlackBerry® Stormxxx8482;, Boldxxx8482;, and Flipxxx8482;.
Only $39.95
Use
NA3RELEASE
to geat $10 discount!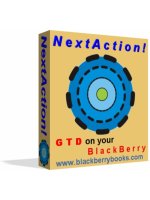 NextAction! Website:
S4BB Limited » NextAction!
TaskMaster 1.2.0 has been released with more sophisticated task management.
TaskMaster 1.2.0 for BlackBerry® - The next generation of to-do / task management with your BlackBerry® Wireless Handheld. Sophisticated task software for everyone!
Key Features
FAST one click category switching - famous from NextAction!.
Full featured task support: due dates, priorities, notes, status, etc.
Synchronizes with Microsoft Outlook, Lotus Notes, Act!, Novell Groupwise, iCal, Entourage, and more.
100% compatible with Blackberry Tasks Application and NextAction!. You can use them simultaneuosly if you want.
Enhanced for implementing GTD® (Getting Things Done).
Customizable font size.
Due date in task list (optional).
Languages - English and German.
New in TaskMaster 1.2.0
Hotkeys: task adding (xxx8217;N', xxx8216;Bxxx8217;), listing screen sort quick switch (xxx8217;A', xxx8216;Sxxx8217;), quick task delete (xxx8217;DELxxx8217;).
Trackball click opens selected task.
TaskReports integration.
Default due date can be set to: today or tomorrow.
Minor bug fixes (time zone, not starting, category change/add, focus lost).
Only $19.99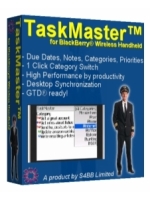 TaskMaster Website:
S4BB Limited » TaskMaster