Thank you very much for using our mobile applications! A very special thanks goes to our fellow beta testers who gave awesome feedback!
Finally we were able to finalize our vision of a productive GTD® workflow on BlackBerry® Wireless Handheld devices. Therefore, we created a new product called NextAction! Professional Edition which provides more sophisticated features like VoiceActions(TM) and Priorities. The final version of NextAction! 3.0 Pro has been polished a bit and some minor bugs have been fixed as well.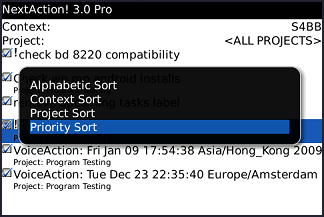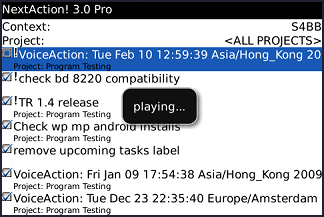 We would like to offer you a discount of 10% for the Professional Edition which then costs just $89.95 for you.
Beta tester discount coupon:
RCVU36
Website:
NextAction! 3.0 Professional Edition
Short list of most important features:
Actions
Contexts
Projects
Someday / Maybe
Priorities
Sort by priorities
Voice Actionsxxx8482;
More information about NextAction!: