-
S4BB Limited
(
http://www.blackberryforums.com/s4bb-limited/
)
---
ActionPad Final Released - Memo Management with Password Protection

ActionPad for BlackBerry® is the best memo management software available for BlackBerry® Wireless Handheld devices. ActionPad is available for all current BlackBerry® Smartphone models and is full touch-screen compatible. A program download (OTA and Desktop) can be obtained from all major mobile content websites such as BlackBerry App World, Handango, MobiReach, MobileSoftMarket.
ActionPad Core Features
Title & Content Search
1-Click Category Switch
Hotkeys
Share Memos
Memo Encryption
BlackBerry® Integration
Desktop Synchronization
Enterprise Synchronization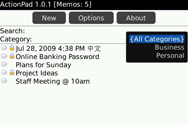 More Information:
ActionPad Product Page »
Presentation:
ActionPad Video »
| | |
| --- | --- |
| cojonesdetoro | 02-26-2010 09:08 AM |
---
There's a new version but I can't find a way for a registered user to get it. All download links lead to a payment screen.
All times are GMT -5. The time now is

02:14 PM

.
Powered by vBulletin® Version 3.6.12
Copyright ©2000 - 2018, Jelsoft Enterprises Ltd.