-
S4BB Limited
(
http://www.blackberryforums.com/s4bb-limited/
)
---
ShowEventLog now available for free download

Description
This brings up the BlackBerry's internal event log so you can easily see what is going on with your device.
Features
Easy log startup.
No key combinations need to be typed.
Works perfectly on touch screen devices.
Easy installation.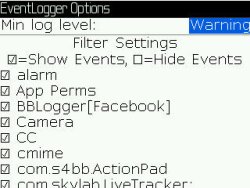 Free Download:
ShowEventLog for BlackBerry
All times are GMT -5. The time now is

10:22 PM

.
Powered by vBulletin® Version 3.6.12
Copyright ©2000 - 2018, Jelsoft Enterprises Ltd.