-
S4BB Limited
(
http://www.blackberryforums.com/s4bb-limited/
)
---
New NextAction! Desktop Add-In for Microsoft Outlook®

Many of our NextAction! users asked for an Outlook Add-In which they can use with synchronized tasks from their mobile phone. Now we have created the perfect companion for our
NextAction! BlackBerry®
and
Windows Mobile®
programs.
Features
GTD® features as known from NextAction! right in Microsoft Outlook®.
Seamless synchronization of NextAction! mobile with Microsoft Outlook®.
Compatible with Netcentrics Add-In.
Screenshot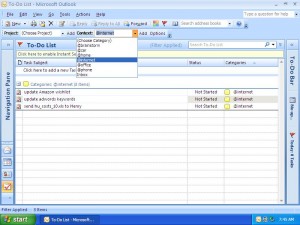 More screen shots on the product page (link below)
More information:
New NextAction! Desktop Add-In for Microsoft Outlook®
Hopefully, we are not violating any forum rules by posting this entry here. Any comment, criticism or controversial discussions are highly appreciated :)
All times are GMT -5. The time now is

06:47 PM

.
Powered by vBulletin® Version 3.6.12
Copyright ©2000 - 2018, Jelsoft Enterprises Ltd.