TaskMaster is now available in version 2.0. TaskMaster is now available at an introductory price of $4.99 which includes free lifetime updates and a 30 day money back guarantee.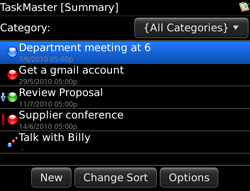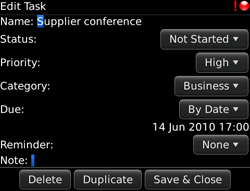 New in TaskMaster 2.0
Multi-Category support
Task reminder support
Import task files in ICAL or VCAL format from media card or device memory
Better integration with native BlackBerry applications.
Create a task right out of Address Book, Browser, Calendar, Messages, Tasks
Paste any clipboard content direct into a new TaskMaster task.
Full language support for English, German, French, Cantonese, Mandarin
Get TaskMaster Now!
Official TaskMaster for BlackBerry® Product Description can be found here:
http://www.s4bb.com/software/taskmaster