S4BB Limited is proud to announce the update to SmartWiFi. Packed with 3 completely new features and 17 improvements, this update is FREE for all our SmartWiFi existing users.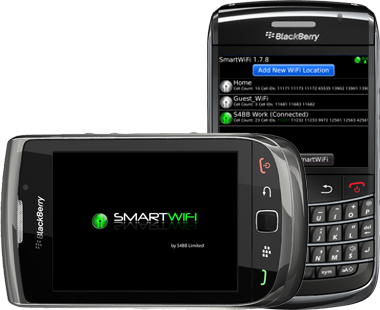 SmartWiFi intelligently saves battery on your BlackBerry® by actively managing the WiFi. The revolution in battery power optimization!
New Features in SmartWiFi 1.7
Auto-add newly connected WiFi Location
WiFi Activity Log: track SmartWiFi efficiency
Same SSID hotspots can be treated as one WiFi Location (optional)
Improved in SmartWiFi 1.7
More details in WiFi Location list
More cell information details
User interface redesigned
Several minor bug fixes
Full BlackBerry Torch 9800 compatibility
More information: SmartWiFi 1.7 for BlackBerry® Smartphones
Get SmartWiFi Now!
Official SmartWiFi for BlackBerry® Product Description can be found here:
www.s4bb.com/software/smartwifi